We recognize that all our patients are unique and deserve to receive dental care that reflects their individual needs. Our experienced and talented dental team is committed to working with you and your family to create a comfortable, stress-free, and rewarding dental experience every time you visit our practice.
We are pleased to welcome you and your family, and we look forward to working with you.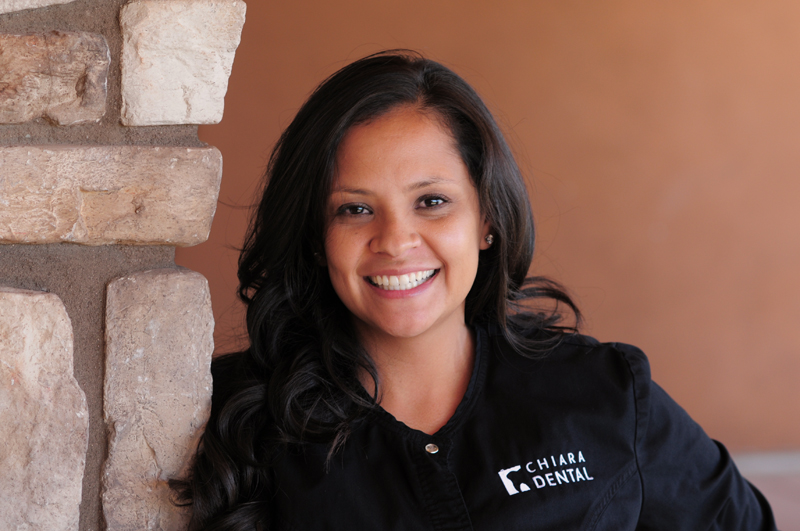 Ariza
Office Manager
Hello and welcome to Chiara Dental! My name is Ariza and I'm the office manager. I oversee the office, ensuring we're providing you with the best care. In addition to managing our hygiene and operative schedules, I will work with you to explain procedures and answer questions about treatment. I will also review insurance benefits, so you understand your financial responsibilities.
I started working as a dental back office assistant in 2008 and completed my dental assistant training here in Tucson. My first position with Chiara Dental was as Dr. Chiara's assistant, in 2013. Then, in 2015, I started training for office management. We have an amazing practice: Dr. Chiara is a very conservative, gentle dentist and our team is skilled, helpful, and caring. We work hard to provide you with the best dental modern dental care, so you enjoy a lifetime of smiles!
When I'm not in the office chances are I'm with my family. I'm married and have three kids. We enjoy camping, hiking, and spending time outside in the sun. My newest interest is gardening.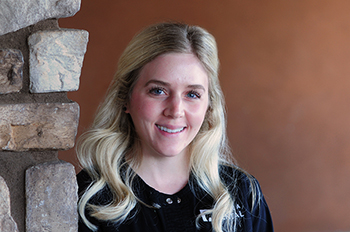 Megan
Hygiene Assistant
Hello, I'm Megan and I'll be with you during hygiene appointments. I'll bring you from reception into the operatory, take any necessary X-rays, and assist the hygienist and Dr. Chiara during your visit.
I completed the Dental Assisting program at Pima Community College in 2014 and then joined Chiara Dental. I'm a people-person and really enjoy getting to know our patients: I look forward to learning about your life!
Outside the office, I enjoy time with my husband and our new puppy. I like to take hikes when the weather is nice and my husband and I like to try new restaurants around town. In our down time, I enjoy working on a variety of projects around the house.

Addie
Treatment Coordinator
Hi! When you come back for treatment, Jensine or I will meet you in the waiting room and stay with you till the end of your visit. We can answer your questions about all of the procedures Dr. Chiara performs, so please ask us!
I was born and raised mostly in California and came to Tucson during high school. I graduated high school here in Tucson and then went on to train as a dental assistant at Carrington College and completed my certificate in 2015. I completed my exams for my coronal polishing certificate in 2016. I really enjoy working in the dental field and I love attending continuing education classes and learning new things. Most recently we've been training in orthodontics, which I love!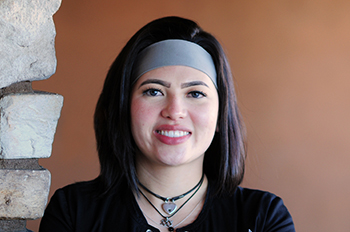 Jensine
Dental Assistant
Hello! My name is Jensine and I'm a dental assistant. I will be at your side during visits, assisting Dr. Chiara during procedures and providing direct care. I also coordinate treatment and offer lots of useful patient education so you know how to keep your smile healthy.
I graduated with honors at Pima Medical Institution, am X-ray and coronal polish certified, and completed the course of GP orthodontics. I've worked in the dental field since 2015 and found my home at Chiara Dental in 2017. You'll feel at home here, too: we have a comfortable and supportive environment!
My amazing and loving husband and I have two dogs, Alex and Loki. I'm one of seven siblings, so family keeps me busy. When I have free time, I enjoy reading, writing, and hiking, along with working out and helping my husband with his collection of exotic pets and plants.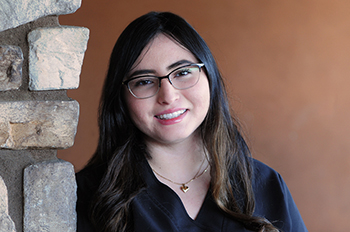 Maria
Billing Specialist
Hi, my name is Maria and we'll likely first "meet" when you call the office. I work closely with Ariza at the front desk where I answer calls, help people understand their treatment and insurance, and assist with coordinating treatment. I also enter insurance payments, monitor accounts, and handle accounts receivables and payroll.
I hold a degree in accounting from Pima Community College and joined Chiara Dental in 2020. I love numbers and, working here, have come to love dentistry – and our wonderful patients – too!
When I have spare time, I enjoy afternoon walks and binge-watching shows. I also love to hang out with my family and friends.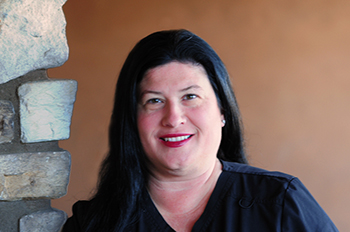 Leanne
Dental Hygienist
Hello and welcome! My name is Leanne and I'm a Dental Hygienist. I provide a range of oral healthcare services and will help you with preventive care, as well as specialized periodontal treatment. During your hygiene appointments, as I gently clean your teeth, we will talk about your dental health and what you can do to keep your smile healthy and bright.
I have an Associates of Applied Science in Dental Hygiene and a specialty in periodontics and SRP (scaling and root planing). After starting in the field in 2008, I was welcomed to the Chiara Dental family in 2020. It is a joy to be part of a professional, wonderful team. I know you will feel at ease in our care!
Family keeps me busy when I'm not at work. I'm happily married to an airman and have four kids, plus a cute little Shih Tzu named Jo Jo. I love time with my family, especially when we're camping or swimming, and I enjoy cooking and reading, too.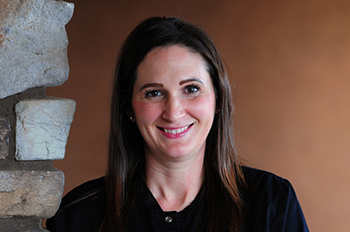 Jane
Dental Hygienist
Hello and welcome to Chiara Dental! My name is Jane and, as a Dental Hygienist, I will help you develop and maintain optimal oral health. In addition to cleaning teeth, I provide preventive treatments and offer education so you can take control of the health of your smile.
I graduated from the University of Arkansas for Medical Sciences in 2015 with a Bachelor of Science in Dental Hygiene. After working in offices in South Dakota and Colorado – my husband is in the Air Force – I joined Chiara Dental in 2020. This is an amazing office, with a caring and knowledgeable dentist and a staff that makes your wellbeing and comfort our number-one goal!
Family is my priority when I'm not seeing patients. My husband James and I have been married for 20 years. We have four children: Sarah, Abby, Brett, and Trent, along with a dog, cat, and leopard gecko. James and I enjoy mountain biking, and our family loves hiking, camping, and watching and playing sports.
We love our dental team!